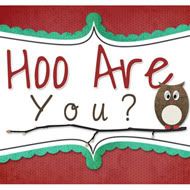 Since I don't have any crafty things to link up this week I decided to participate over at

Night Owl Crafting

in her HOOO Are You link party. She has super fun questions that she asks each week so you can get to know other bloggers.
Here are the questions this week
1. Where do you usually have your thermostat set at in the winter?
2. What room do you tend to put off cleaning until last?
3. Do you like to clean with music on or off?
4. When do you take time to blog?
5. How much time do you spend looking at other blogs a week?
1. During the day I have the thermostat at 72-73. I can't sleep when it's super hot so at night it goes to about 70. The house has to be on the comfortable/cool side for me to sleep good. I know I'm a weirdo:)
2. I agree with Leslie on this. My poor room gets neglected. My laundry is always the last to be washed and put away. Even decorating gets forgotten about in there because I'm focusing on the rest of the house. I also agree with Leslie if we have people coming over and need to move clutter it ends up in our room.
3. I need some sort of background noise when I clean. If not music at least a TV. One of my favorite additions (that I didn't want) was a TV in our kitchen. I LOVE having one in there when I'm cleaning. If I have on music it has to be something fun like 80's. 80's music makes me happy.
4. I like to blog in the morning after MnM goes to school. If I have a crazy morning it's usually at nap time or just before bedtime.
5. I spend WAY more time then I probably should. I try not to be on the computer for more than 2 hours a day. It's easy to get lost in blog land especially on link party days. That means in one week 14 hours. Wow that makes it sound like a ton.

This was super fun!! I'm for sure going to be doing more of these!!