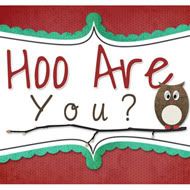 I thought it would be fun to participate again in the hoo are you questions at

Night Owl Crafting

.
Here are this week's questions
1. Do you make a budget and keep it, or just fly by the seat of your pants?
2. Do you do spring cleaning and if so which month?
3. Are you a yard sale lover and do you have them and go to them?
4. What do you take when you have a headache?
5. Name 3 things that you feel lucky to have in your life!

Here are my answers
1. I am 100% a fan of having a budget. We started a budget when I became a SAHM 2 1/2 years ago. Old Mac is the bill payer in our house. We are lucky in the fact that he gets paid weekly. He has a system down where he pays a few bills each week to space it out. I do the grocery shopping once a week also with a set amount. I do meal planning for a whole week and base my grocery list around the menu. We also set aside a certain amount each week that gets put into an account for Christmas. It took us a while to get used to having one income and doing a budget. It's been sooo worth it though!
2. In the past I haven't done a set "spring cleaning". I've kinda done a little here and there throughout the year. I'm totally doing one this year though! There are some things that are way over due on deep cleaning.
My World Made By Hand
is kicking off a fabulous spring cleaning series. I will totally be checking it out for tips! I also saw a great idea at
Sister's Stuff
that I'm for sure making soon. I'm planning on getting started on the spring cleaning in the next few weeks. I want to space it out so I don't feel overwhelmed. Hopefully I'm done by Easter.

3. We aren't usually garage sale people. We did hit up one in our neighborhood last year and scored some awesome Christmas stuff. We are totally planning on going to some this year. I also, like Leslie, hate putting together yard sales. I think they take way too much work. MnM had one a few years ago for dance that was really worth it. I probably should do one to get rid of all our junk but I just don't have the patience.

4. I unfortunately get migraines. A few years ago I was getting horrible migraines almost every other day. I went to the doctor and got put on special medicine that cuts the amount of headaches down. I was also given one for when I did have a migraine. I have no idea what I've done different but I don't have to take the meds anymore and I hardly get them at all. Old Mac swears they are stress related. I guess I must not have as much stress:)

5. The three things I feel lucky for are: my little family, our little house, Old Macs job. Sometimes I find myself having a pity party and wishing for things that I don't have. I would love a new bigger car, new house, and another baby. In the meantime I need to remember just how lucky I really am! (Okay I'm done preaching)
This was another fun week of questions!