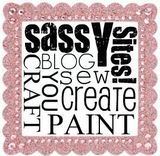 Welcome to everyone stopping by

Sassy Sites "hello friend" link party

!! I started my little blog in January of this year. My blog hasn't been running for long but it's only just beginning! Thank you Marni for doing a link party like this!! What a great way to get know other newbie bloggers like me.

Me and my two hubbys after all we do live in Utah. Only kidding.
This picture does show you the crazy height
difference though between me and the hubster.

To give you a little bit about me, I started my blog after I was given a calling for my church. I am the craft coordinator for our Enrichment Nights. I was super excited but also nervous. I've never considered myself to be super crafty or creative. I decided that if I was going to step out of my comfort zone I might as well go full force and start a craft blog. I also wanted to be able to keep all my projects separate from my family blog.
One thing you'll notice is (and I may be too paranoid) I don't want my kids names and faces all over. Anytime I refer to them or the hubby I have little codes. To catch you up the hubster is Old Mac. We have a little girl who I call MnM. Our youngest wild monkey is SMac.
I'm super lucky to be a SAHM to our two kiddos. We like to stay busy. We are a big time Jazz loving fam, hence the above picture with Old Mac and my boyfriend. We don't have any pets yet. I say yet because the kids are crossing their fingers the Easter bunny drops some goldfish off in their Easter baskets. I love fountain cherry cokes, peanut butter M&M's, and ice cream. If there was a diet that involved eating those things (without subtracting points) I would be on it. LOL. I REALLY REALLY wish we owned a mini van. I know you can call me lame the hubby does every time I stare at one.
Anyway that gives you a little look at me and my little blog. I hope you stick around and check out some past posts!! Thanks again for stopping by!!